Augmented reality and living arts
The world of the arts has taken hold of augmented reality for very diverse uses such as the promotion of a new novel or a comic strip by their author, the sharing of backstage emotions experienced during a tour or, more unusually, in the realization of a work.
Promote through augmented posters
For the launch of the novel "Ne t'enfuis plus" by Harlan Coben, the publisher Editis relied on an outdoor poster campaign that could be increased with the Read application. The device invites passers-by to scan the posters in public places to make the author himself appear, in augmented reality, on the poster. 
The campaign was a great success with several thousand downloads of the application by the author's fans, who can benefit from exclusive content (videos, animations, illustrations, contests, links and goodies to download…) and the support of the author himself, who relayed the campaign on his personal social networks.
(82k subscribers on its Instagram page) – to discover in video here.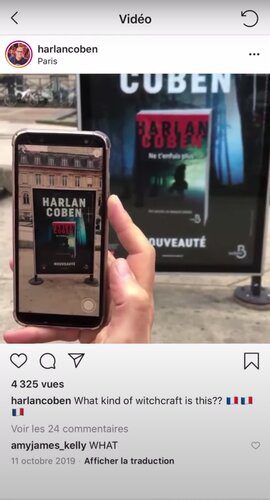 Strengthen the relationship with readers with unique content
Davy Mourier, the author of the comic book series "lLs Petites morts", has increased with the help of the publisher Delcourt one of his latest books.
The increase in print media increases the wonder of customers tenfold and boosts the customer experience by offering a real link with digital. The author was able to share unique moments that are impossible to share in a normal book; this is made possible by the integration of videos that detail the context in which the page was designed. Davy Mourier also shares, with emotion, the gifts he received from readers during a book signing tour.
Getting fans behind the scenes
Kev Adams, the actor and stand-up artist, has chosen to expand the book that traces the backstage of his latest tour with ARGOplay (SnapPress) allowing fans to experience unique moments behind the scenes. Only thanks to augmented reality! 
The use case of the augmented artwork
The painter Yann Houri chose to give an extra dimension to one of his works thanks to the ARGOplay application. Some pictorial elements of the work have been transformed into 3D objects that appear on the screen in a spectacular way. The video of this unique work can be seen here.
Interact with potential buyers, explain his artistic choices, appeal to fans of his art … so many possibilities offered by augmented reality applied to the art world.