Increase the impact of your corporate materials
Annual reports for the press and internal teams, shareholder communications, meeting minutes and training guides: enrich your PDF documents with high value-added editorial content.


There is a wide variety of corporate documents, each one meeting specific marketing and communication objectives. Often accessible to the greatest number of people, they often have a double life, in printed form they are often also downloadable online. Today, companies have access to a multitude of media to communicate: social networks, digital platforms, corporate messaging, websites, more and more digital content is produced, stored and accessible on different platforms, making their distribution more complex.  The augmented document allows you to centralize all this diverse editorial content in a single document, while benefiting from incomparable ease of editing and real-time monitoring of consultations to transform your traditional corporate communications into powerful communication tools.
Make an impression with an augmented reality document
The magazine distributed to the citizens of the city of Roanne has decided to be revamped. This information medium traditionally generates little enthusiasm and is only read by an often elderly population. The addition of editorial content in augmented reality allows to attract a younger readership and to give more impact to the information and messages of the city hall with the addition of numerous digital contents accessible on the same support.
The augmented PDF annual report, what else?
Many companies produce annual reports, or one-off reports following the organization of an event. These documents are real bibles of information intended to federate the public, partners and/or staff. They are often proposed in PDF format for free download on the company's website. They are an excellent showcase of the company's achievements and projects. Adding additional editorial content to these documents (video reports, audio description, useful links…) allows to transform a basic PDF into an interactive interface rich in information.
Other clients realisations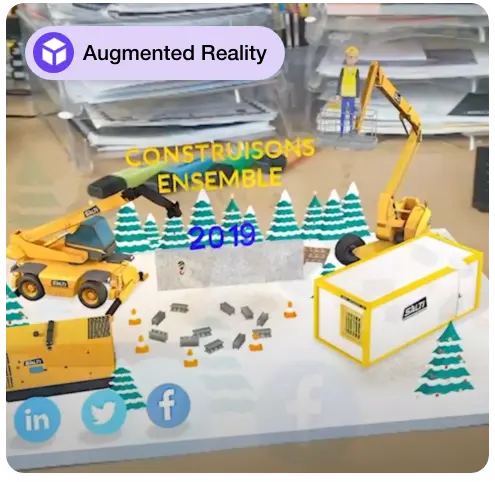 The AR greeting card to stand out from the crowd
Enhance your corporate greeting cards and surprise your partners and customers with a memorable Augmented Reality experience, a touch of magic to start the new year.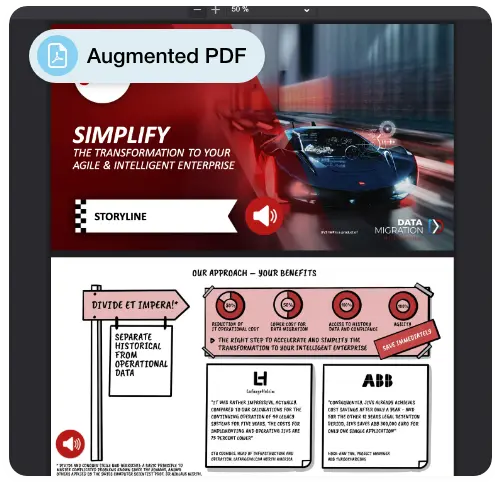 Present your PDF slides with audio description
Accompany your presentation documents with explanatory audio clips to make your slides easier to understand. No need to make live presentations, record your arguments and simply add them to your documents to combine the power of speech with your printed material.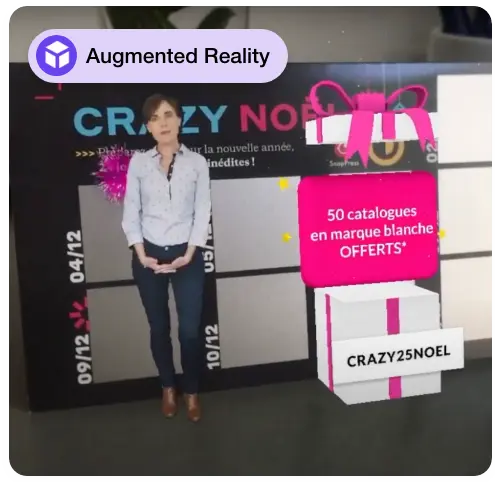 Exaprint x SnapPress (ex ARGOplay)
Exaprint surprised its customers with an augmented reality advent calendar revealing a video hologram of its management and promotional offers for its customers, a nice way to highlight the company's know-how, creativity and mastery of new communication codes: surprise to build loyalty.
They augment their corporate materials