SnapPress becomes ARGOplay
Augmented reality, driving professional solutions for public and private organizations
SnapPress is a professional augmented reality solution. Our customers have access to a platform that includes a campaign management tool and an augmented reality editor in SaaS mode. This platform allows to create, host, publish and follow AR campaigns in a simple and fast way, without any coding skills.
For mainstream users, SnapPress is a free mobile application that can be downloaded from the Apple Store or Google Play. With this free application, users can play and interact immediately with augmented reality content from their smartphone or tablet screen.
SnapPress also offers customers an augmented reality experience without having to download a mobile application. Thanks to WebAR, experience augmented reality directly from your mobile's web browser.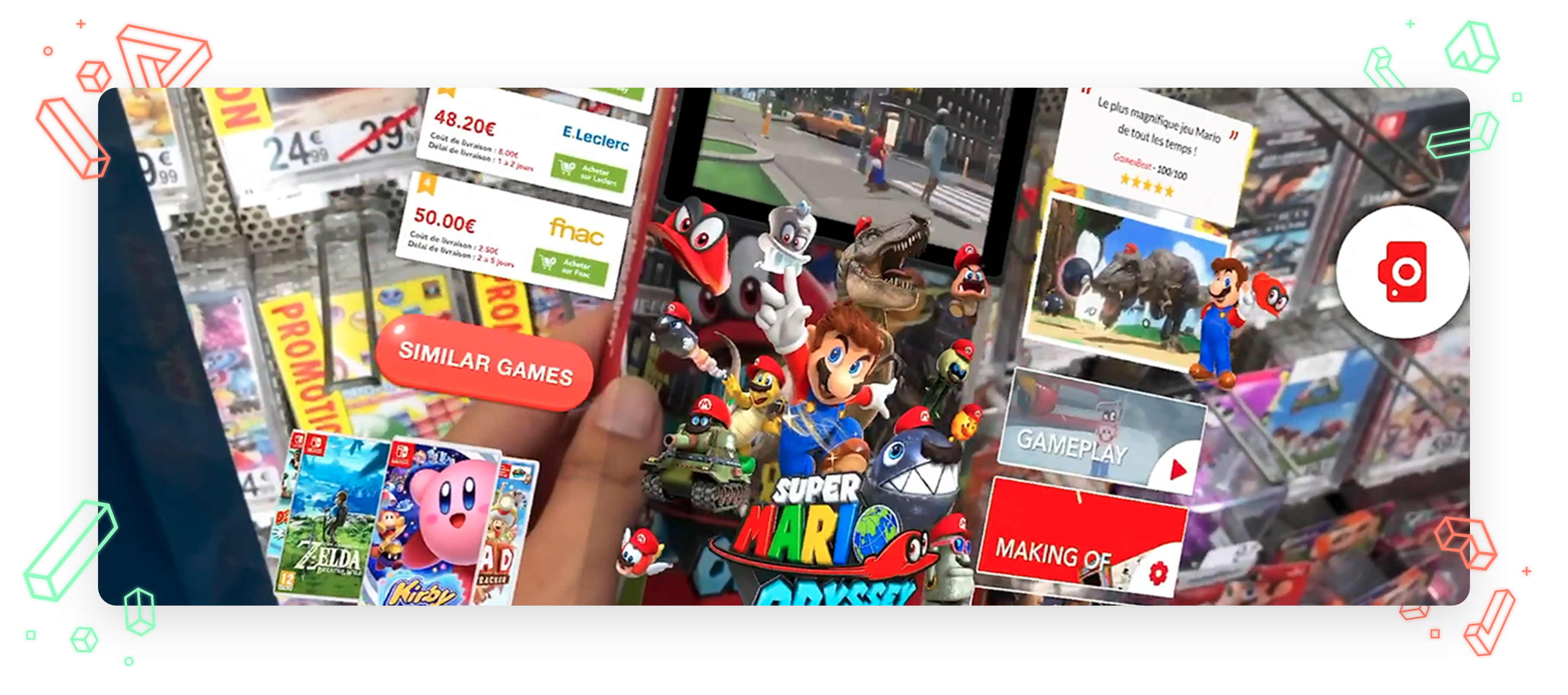 Our clients design innovative experiences for leading brands, agencies, event promoters and educators, demonstrating how augmented reality technology can transform packaging, renew learning, illuminate events and enhance marketing campaigns with innovative and engaging content.
SnapPress is part of the ARGO Group, a leading augmented document technology company with more than 350 customers and partners worldwide.
Augmented reality is a technology that allows digital elements to be superimposed on the real world to enhance a user's perception of and interaction with their physical environment. These elements can be videos, images, links, 3D animations, and more. Augmented reality became known through the introduction of "smart glasses", but the most accessible use is with the camera of your smartphone.
Instagram filters, Snapchat tools that modify faces, or the Pokémon Go mobile game are among the most well-known applications of AR.
The "marker base", at the heart of augmented reality
Augmented reality technology works through image recognition. One defines some visual element as a "marker", which can be scanned in order to trigger an interactive feature in augmented reality, via a smartphone. The most common markers are barcodes and QR codes. but they have the disadvantage of having little graphic appeal.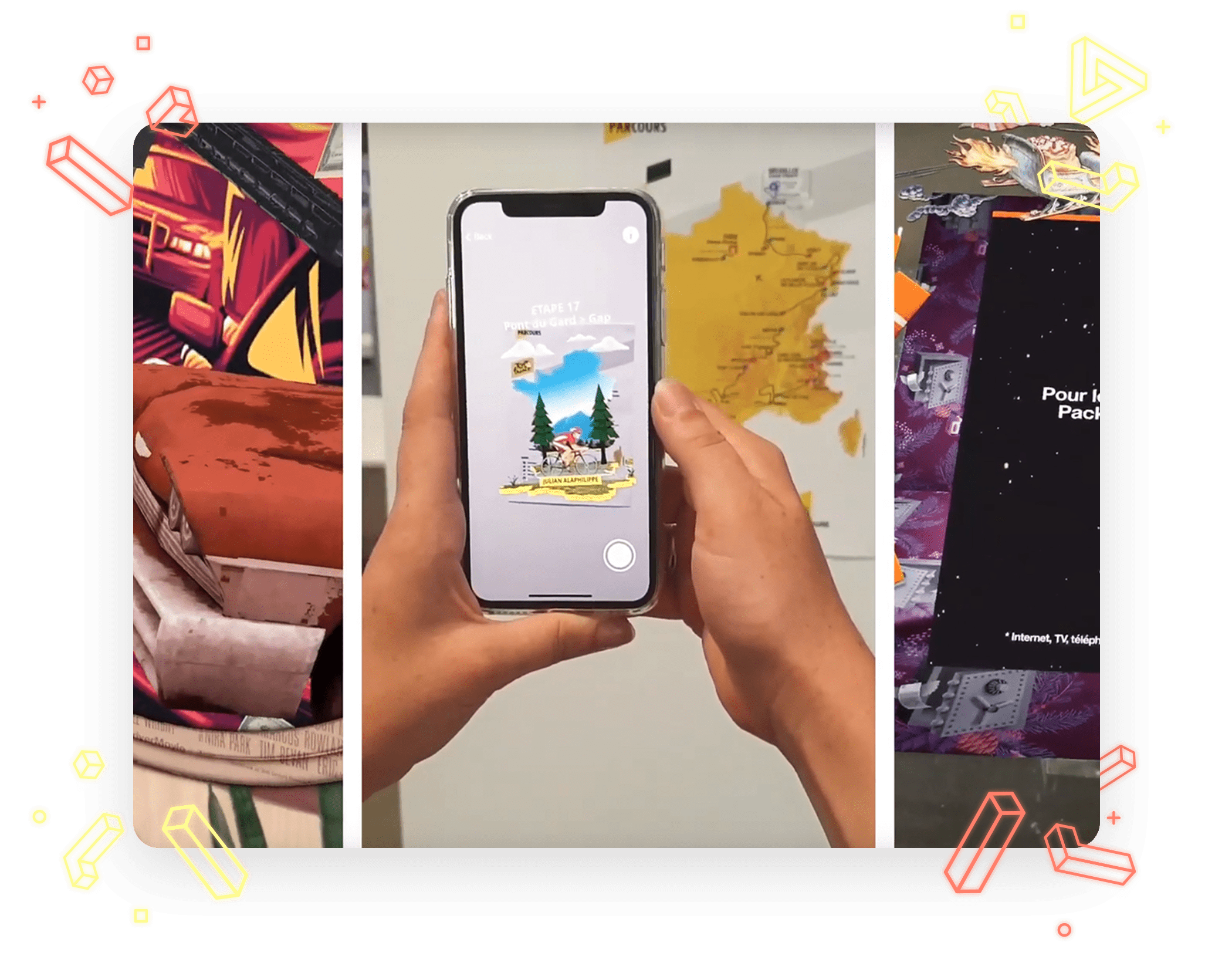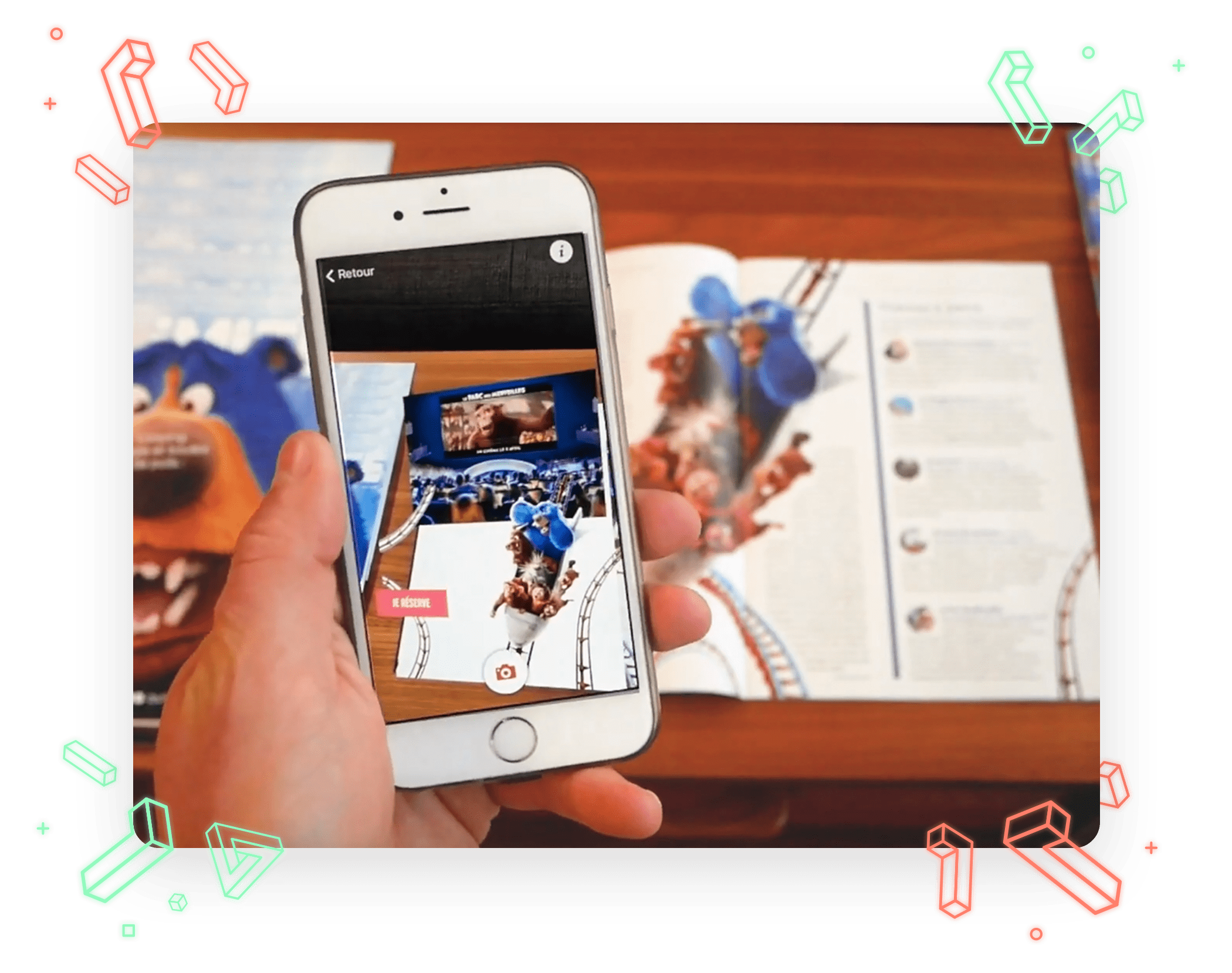 Fortunately, technology has evolved, and today any image can become a marker: a poster, a package, a catalog, a newspaper…no modification of your original image or graphic content is necessary. Your visuals remain intact but can be given new life by adding augmented reality. The use of physical markers allows you to contextualize your message: for example, create a link between your product catalog and your e-commerce site, launch a promotional video from your advertising brochure, or integrate your product packaging into your storytelling, or "game it" by offering a contest in augmented reality. There is no limit to what you can do!
The complementarity of the printed and digital worlds
The print market brings together everything that is printed, on paper or not, as opposed to digital. It encompasses all the work from composition up to printing, and products ranging from printed advertising and publicity, to magazines and books, as well as catalogs, labels, product packaging, and more.
Augmented reality gives the printed word a second life by linking physical media with digital worlds. Our customers retain all richness and comfort of print, but with the added advantages of digital media.
Print remains popular; it provides a comfortable reading experience and instills readers' confidence in the content. Digital, on the other hand, offers interactivity and reactivity. It also generates statistics that help you measure your ROI. Thanks to augmented reality, take advantage of the best of both.
Create the customer experience of your choice: educational, practical, fun or commercial.
Augmented reality offers a new dimension to your marketing and communication plans, but also to the design of your products. New features, new audiences. Engage more easily with your customers, gain market share, generate more revenue, and boost your ROI.
Augmented reality is easy to implement: no need to modify your production line. Integration can continue even after your content is printed! You probably already have the material for interactive content: videos, a website, a contact form, social networks, photos, online games, perhaps 3D objects. All you have to do is integrate them into your print campaigns.
As simple as drag and drop, equip your creatives with our ARGO augmented reality editor, or use one of our partner agencies to enrich your print communications.
SnapPress becomes ARGOplay
Since its creation in 2019, the ARGO Group has expanded its service offering with the ARGOflow augmented PDF, and has rethought its entire product naming policy.
The SnapPress application becomes ARGOplay and offers a new, more functional interface to go with its new name. The English word "play" opens a window to the international market and combines the notion of a multimedia player with the playful dimensions of AR.