The term "Web AR" refers to an augmented reality offering without a mobile app, directly accessible in a web browser. A technology that leverages the power of modern browsers by simplifying access to augmented reality content, enabling an immersive and engaging experience with just a few clicks. Most importantly, WebAR offers easy access to AR.
Simplified access

The major advantage of this technology is that it allows you to take full advantage of the serendipity and brevity of AR experiences, as opposed to the friction generated by the need to download an app from stores.
Do you expect your consumers to spend 90 seconds downloading an app for an experience that lasts just 30 seconds? Think of it as a dynamic activation of an AR scenario in a crowded store aisle. Modeled after a fast-paced, information-rich social interaction, activating an AR scenario requires quick, smooth access to information.
The AR formats that can then guarantee speed of access and compatibility with the widest audience are the ones that will be most successful. A major focus for brands and retailers who are increasingly using these experiences (often with access offered via a QR Code) on websites, through product packaging or even signage in public spaces.
All the power of HTML5
The webAR also inherits the qualities of the Web, with, for example, the use of powerful tools like Google Analytics to get nuanced measurements of campaigns. The same level of performance tracking is not possible on other, more traditional AR channels like native apps. The Web AR allows you to very easily connect your campaigns to your favorite CRM tools (Salesforce, hubspot, pipedrive etc…)
A wider audience
Beyond the functional benefits, the power of webAR is its effective reach. Because of the fragmentation of mobile platforms, developers and marketers creating app-based ads and experiences often have to choose a path… or else jump through hoops to decline and deliver their devices across all platforms.
Synthesizing all of these factors, ARtillery Intelligence estimates that the addressable market via webAR today represents more than 3.5 billion smartphones worldwide, the greatest reach of any AR platform.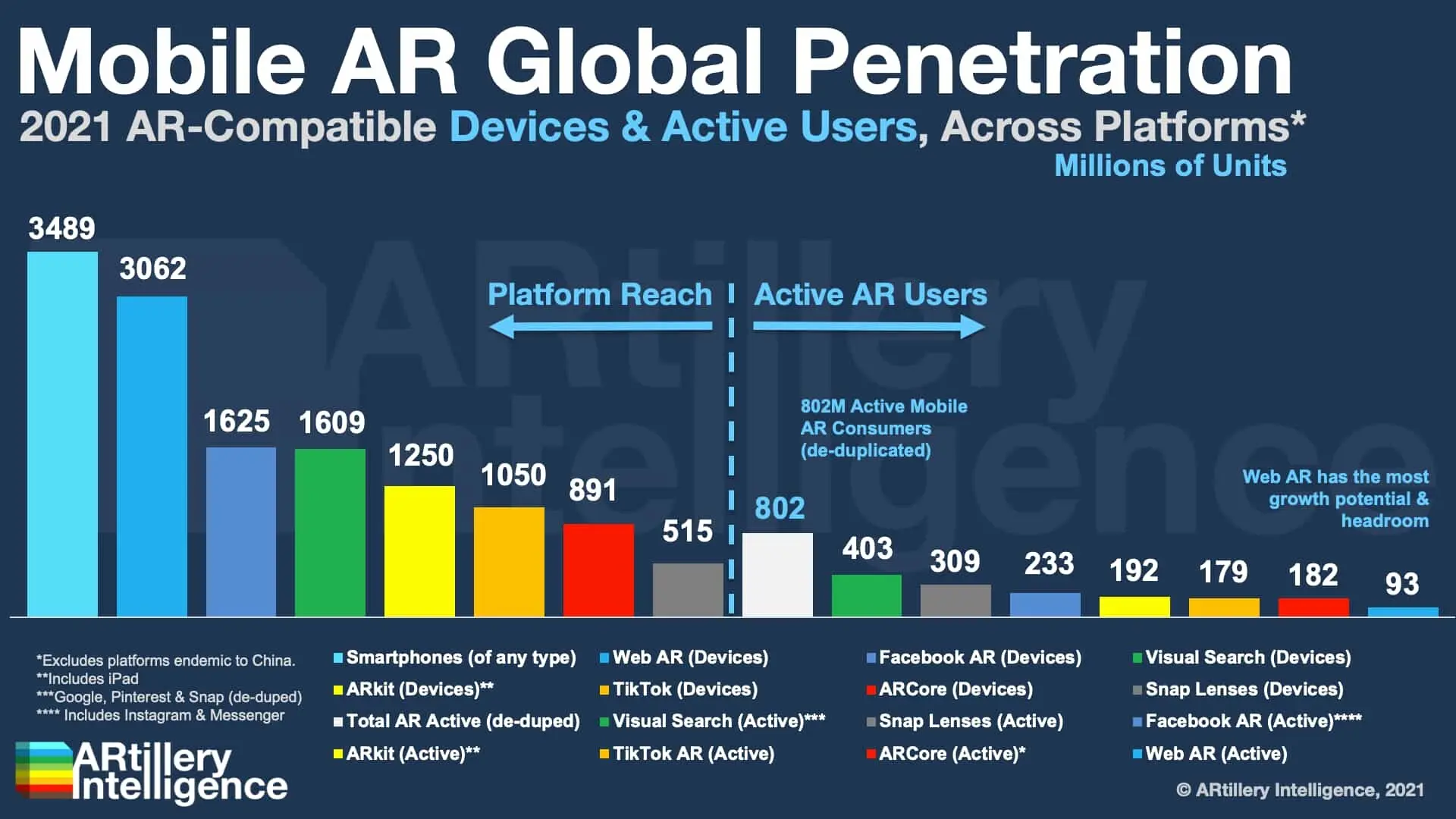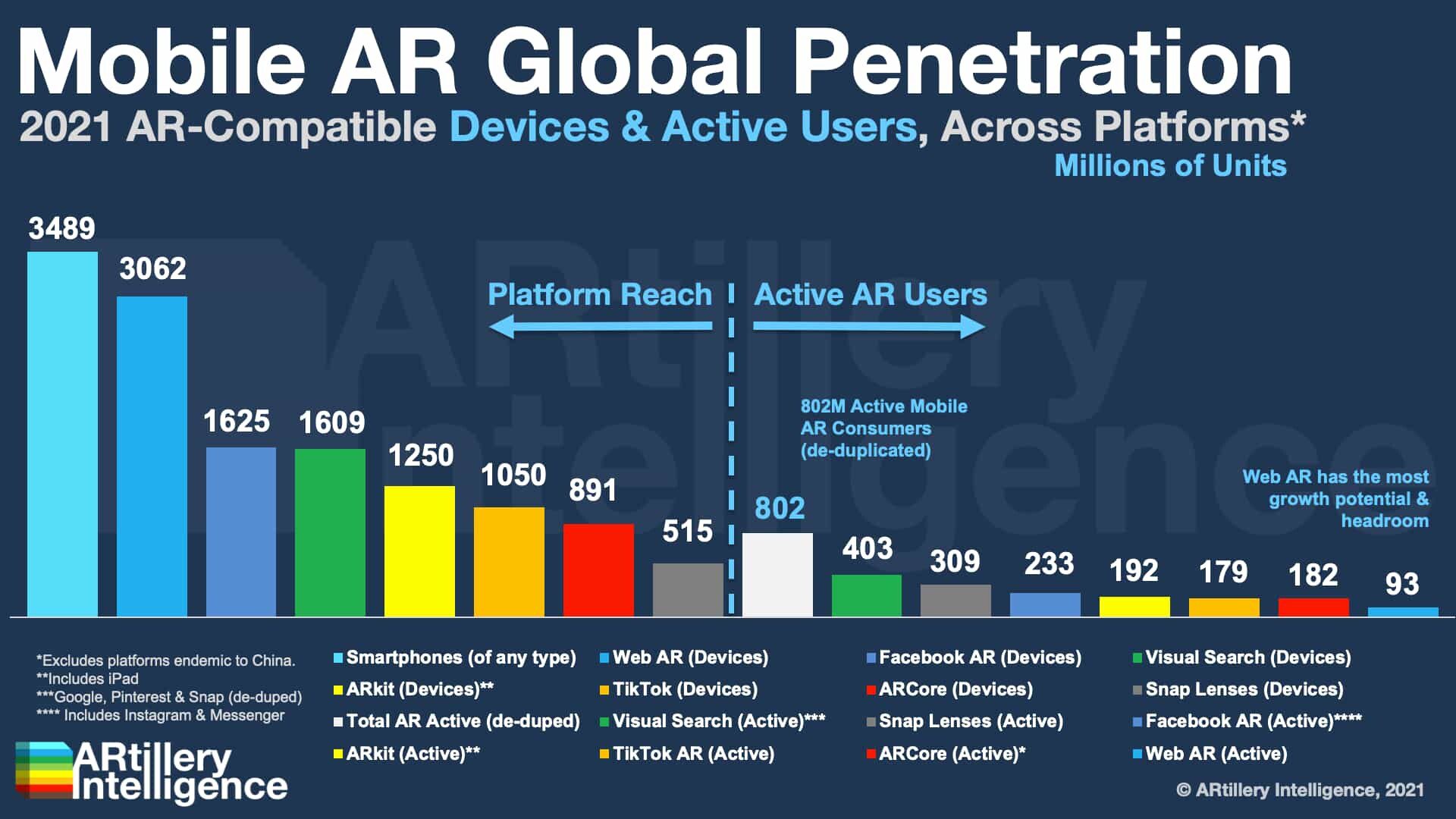 Yet, it's one of the least used AR formats by consumers, largely due to its nascent status. Overall, this means that online AR has more room for growth and potential than any other AR channel.
The web is operable on all smartphones, so a Web ARcampaign will scale to a wider range of devices than a traditional native campaign. This is an important consideration in this emerging market, given the still relatively small amount of AR experiences available to consumers.
A fully customizable brand experience
The Web AR offers an unparalleled degree of customization to your AR experiences, whether at the UX (user experience) level with access to the device (QR code, image, projection in the environment) or at the UI (user interface) level with advanced customization of all the visual elements of your experience (landing page in your colors, integration of your graphic charter elements, customization of messages and interactive buttons…)
UI/UX content updates are done instantly in web format, with few resources, unlike sometimes cumbersome processes when it is necessary to develop native applications (significant development time, OS-specific constraints, limited white label customization, uncertainty about publishing updates on the stores, mobile manufacturers' guidelines and UI/UX constraints…etc.  Web AR happily blows all these constraints out of the water, opening up very promising horizons for experiential marketing.
A fast-growing market, with strong trends and public appetite for these experiences are installing the Web AR as a must-have marketing device, but what are the best practices?
Don't hesitate to ask us to move forward on your project 👉 contact!